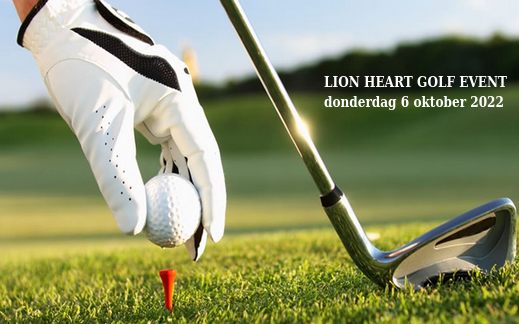 Golf Event 2022
In addition to the sporting and relational ambiance of a golf match, the Lion Heart Golf Event is all about fundraising for the Lion Heart Medical Center in Yele. The organization guarantees a stress-resistant golf format, in which both high and low handicappers work together as a team for the best score. It promises to be a great golf event, with drinks and dinner after the game. A raffle with great prizes and a short auction are part of the evening. The Event takes place at the beautiful accommodation of the Best Golf & Country Club at Best.
A maximum of 25 flights (a team of 4 players) can participate in this Lion Heart Golf Event. It is possible, even highly recommended, to register with multiple flights per organization. You can announce the content of your team at a later stage.
The costs for participation are € 4.000 for 1 flight. If you would like to register as an individual for EUR 1.000, we will determine in consultation how individual registrations can be combined into a flight. If you are unable to send a team, but would like to make a contribution, you can sponsor a hole for € 2.000 or support the event in some other way by, for example, making balls available or sponsoring the wine at the subsequent dinner. We will be happy to discuss possible options with you.
You can register to participate by emailing info@lion-heart.nl, after which you will receive the registration form.